Sustainable Scalloping, From Boat To Plate
Scallops are sensitive to environmental changes and, due to their relatively short lifespan, local bay scallop populations are susceptible to periodic collapses. To enjoy recreational scalloping for years to come, it is important that safety and conservation stay top of mind.
The recreational harvest of the Florida Bay scallop is one of Florida's most anticipated summertime activities for residents and visitors of all ages. The Florida Bay Scallop is a bivalve mollusk that lives in seagrass beds in relatively shallow water, usually 4 to 10 feet deep. At one time, scallops were reported from as far east as West Palm Beach and as far west as Pensacola. Today, populations can only be found in selected locations along Florida's west coast—principally St. Joseph Bay, the Steinhatchee area of the Big Bend, and the areas near the Crystal and Homosassa rivers with expansive seagrass beds.
Learn more about the anatomy, reproduction and ecology of the Florida bay scallop.
Best Practices For Scalloping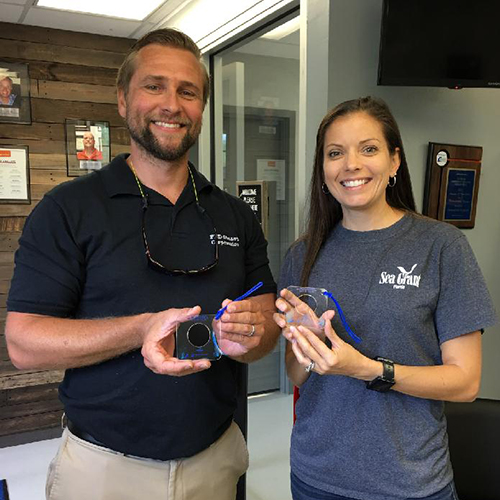 Florida Sea Grant agents have developed an easy-to-use "scallop sorter" tool. Use this tool when collecting scallops to prevent harvesting smaller scallops (less than 1.5 inches) that have not yet had a chance to reproduce and replenish the local scallop population. Although there is no regulation on minimum size limit, allowing younger or smaller scallops to spawn helps sustain the fishery and ensure future scalloping seasons.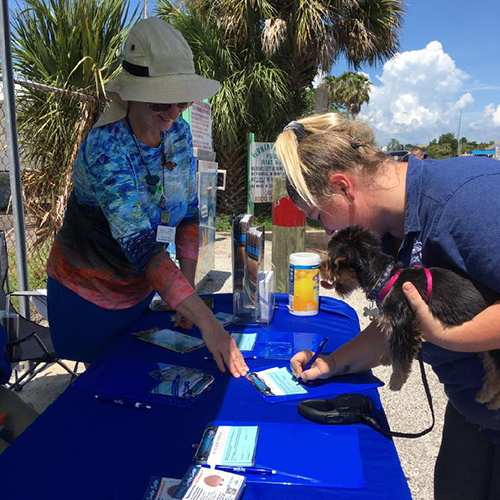 FSG agents and partners will station at bay marinas and docks throughout the 2022 scalloping season. If you come across an agent, don't forget to pick up a free scallop sorter, sticker, and sign the pledge card.
Scallop sorter tools were created in collaboration with PED-Stuart in Hernando County, Florida. The project was funded by Florida Sea Grant. Please direct questions or feedback about the project to Brittany Scharf or Victor Blanco.
1. Gather Personal Equipment
Snorkel gear (mask, snorkel, fins)
Mesh bag and/or dip net to harvest scallops
Plenty of water
Hat and sunscreen
1-3mm wetsuit (if you tend to get cold)
Sun suit or shirt
Gloves (optional)
Dive gear (optional)
2. Check License and Regulations
Anyone harvesting scallops needs a current Florida recreational saltwater fishing license, unless you are scalloping on a chartered trip. A saltwater fishing license can be obtained online from the FWC.
Make sure you understand the open seasons and bay scallop harvesting regulations. FWC manages the fishery by opening certain zones along the Big Bend to scalloping at different times. This makes the rules more complicated for scallopers, so be sure you understand the open and closed seasons and areas. Check FWC's website for the most up-to-date information on open dates and zones.
A brief summary of basic rules is provided below (current as of Feb 2021).
3. Check the Tides
Be aware of changing tides. During outgoing tides, vessels can be stranded in shallow seagrass areas where scalloping is popular. Always check the tides for your area before venturing out and plan your trip accordingly. You can use a tide tracker like this one.
Minimum Size Limit: None, though it is recommended that you toss back scallops smaller than 1.5 inches across (about the size of a golf ball).
Gear requirements: Scallops may only be landed by hand or by using a dip net, no other harvest methods are allowed.
Transit through closed areas: In past years, it was illegal to land or possess scallops outside open harvest areas. Starting in 2019, it became legal to directly transit through closed areas with legally harvested bay scallops on board. This means that you can harvest scallops from open areas and return directly to a boat access point in a closed area without stopping. You may not stop and fish for other species, for example, if you have scallops on board within a closed area. See the FWC's regulations page for more, including details about GPS coordinates for harvest lines.
3. Pack Boating Safety Gear
Be sure to pack your divers down flag and familiarize yourself with the rules for displaying the flag. One of the most common divers down flag violations is displaying the flag while underway. Always remember to stow your flag before moving to a new location!
Also, check your standard boating safety equipment to be sure you have enough life jackets for every person aboard, a throwable flotation device, a sound-producing device such as a whistle or air horn, and a supply of visual distress signals in good condition (not wet or expired).
Finally, you'll want a cooler with plenty of ice to keep scallops cool and safe to eat.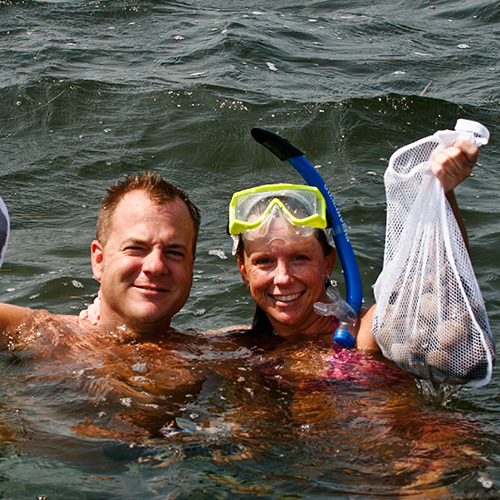 Following the best practices below will ensure the bay scallop fishery is protected for future generations to enjoy. See this comprehensive resource for a complete list of best practices related to planning your trip, protecting the fishery, and cleaning your catch.
1. Throw back small scallops. Recreational harvest occurs before scallops are given the chance to reproduce. Smaller ones are younger than older and have a higher chance of living to reproduce in the fall and possibly again in the winter. In Florida, scallops typically live for about 18 months. While it is not legally required, throwing back small scallops (those less than 1.5 inches) is a great way to do your part to protect the fishery. Also, small scallops have smaller muscle meat so it might not even be worth your while to shuck the small ones.
2. Keep only what you will eat. While "limiting out" might seem like an obvious goal, don't forget that someone will have to shuck all those scallops! One pint of scallop meat (the typical daily limit for one person) is roughly four servings of scallops. Rather than setting a goal of catching your limit, consider setting a more conservative goal based on how much meat you will actually eat. Scallop meat only keeps in the fridge for 1 day or about 3 months frozen. Plan accordingly!
3. Never double dip. Locals and law enforcement officers in the bay scallop harvest areas often report "double dipping", or scallopers going out for a second trip after landing one limit. Without question, this is illegal. But is is also highly unethical and shows disrespect for the fishery and the people with livelihoods that depend on bay scallops.
4. Protect seagrass when boating. Be aware of seagrasses while boating in shallow areas! Many species, including bay scallops, depend on seagrasses. Damage from propellers and boat anchors (called seagrass scarring) reduces habitat quality and resilience of seagrasses over the long-term. Please visit the Be Seagrass Safe website for more information
5. Discard shells responsibly. Shells and soft tissues should be disposed of in open Gulf of Mexico waters with moderate to strong currents that are not channels, canals, marinas, springs, or boat ramps. Shells and soft tissues can cause problems for water quality and boating when dumped in high traffic areas close to shore. Shells disposed of in shallow swimming areas, such as springs or sandbars, pose a serious hazard to swimmers. If you clean your catch on shore, dispose of shells/soft tissues in the trash or clean and re-use for crafts or landscaping around the house.
Ice down your catch.
If left in the sun, scallops will spoil. Place scallops on ice in a well-draining cooler until you clean them to help prevent food borne illnesses. Scallops will die quickly when placed on ice, especially if fresh water gets into their shells, but the cold temperature in the cooler keeps them from spoiling.
Tips:
1) store scallops by placing them on a wet towel on top of the ice in your cooler. This prevents meltwater from entering shells and can extend the amount of time scallops stay alive in the cooler, reducing bacterial growth. 2) you can also place the scallops in a mesh bag and hang the bag off the side of your boat in the water until you dock. Placing scallops on ice makes them easier to open, because the muscle holding the shells together relaxes. Drain the meltwater periodically and add more ice if needed to keep scallops cold until shucking.
Safe shucking. 
To shuck your scallops, grab either a shellfish knife (dull/blunt tip) or a teaspoon. The goal is to extract the circular white muscle meat, being careful to remove as much of the surrounding soft tissue as possible. Give a watch to the video for some tips on how to shuck your catch.
Cleaning.
Always thoroughly rise the shucked scallops in cool freshwater.
Cooking.
 Shellfish, such as oysters, that can be eaten raw are harvested from waters with very strict regulations. Scallops should be cooked because many open harvest areas for scallops are not subject to the same regulations. Food safety standards dictate recommend that scallops should be cooked until the meat is opaque and white. This usually does not take long for bay scallops (about 3 minutes total in most cases), so be careful not to overcook. Check out one of our most popular recipe ideas with an accompanying cooking demonstration: 
simply delish scallops
.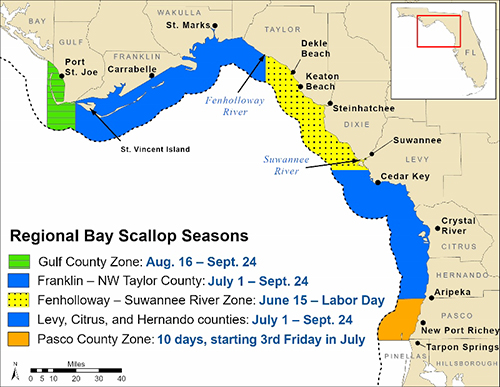 Visit the Florida Fish and Wildlife Conservation Commission's bay scallop fishing regulations page to learn about scalloping seasons and harvest zones.
Contribute to scalloping research and restoration! Once you've gone scalloping, submit data to this online survey to help researchers from the Florida Fish and Wildlife Conservation Commission. You'll be asked to indicate the location you harvested from, how many scallops you collected and how long it took to harvest them. Survey participants can email BayScallops@MyFWC.com for additional information.
Learn more about the state's efforts to protect and restore bay scallop fisheries.
Do your part to protect scalloping
Research has shown that when people take a pledge to do a certain behavior, they are more likely to follow through. Take the pledge to help sustain scallop populations in Florida. Community Scalloping Education
Each year, Florida Sea Grant offers county-specific training about bay scallop harvesting regulations throughout the harvest region. Check back for information about upcoming educational opportunities, and see below for archived recordings.
Browse and download our science-backed scalloping products created by faculty experts.
Looking for answers or resources on scalloping in Florida? Reach out to our faculty experts in the Nature Coast listed below.