Science Serving Florida's Coasts
Check out this video to see how Florida Sea Grant is creating science-based solutions for a thriving blue economy.
A Champion of Florida's Blue Economy
Florida Sea Grant works at the intersection of balancing coastal protection and economic development. For nearly 50 years, the program has leveraged federal and state resources to fund applied research, inform policy, train students and workers, and educate and engage citizens for more resilient communities.
Who We Are & What We Do
Florida Sea Grant is a university-based program that supports research, education and outreach to conserve coastal resources and enhance economic opportunities for the people of Florida.
We are a partnership between the State University System of Florida, the State of Florida, and the National Oceanic and Atmospheric Administration.
We tap into the research expertise of coastal and ocean scientists through Campus Coordinators at 19 universities and research laboratories across the state. We are also an integral part of our host institution, the University of Florida, which is ranked the #5 Top Public School in 2022 and serves as one of the nation's leading Land Grant universities.
Our outreach programs are delivered in conjunction with UF/IFAS Extension and coastal counties of Florida. Extension agents live and work in coastal communities. They have a breadth of experiences and tremendous trust from their residents as reliable sources of science-based information. These agents often work collaboratively with specialists that lead highly relevant programs including on seafood safety, aquaculture and fisheries management, coastal ecosystems ecology, coastal planning, coral disease, clean boating, sustainable fisheries, harmful algal blooms and oil spill science.
Our Vision & Mission
Florida Sea Grant envisions a future with a resilient coastal zone where people use natural resources in ways that are beneficial to the economy and society and that preserve their quality and abundance for future generations. 
 
FSG supports integrated research, education and extension to enhance coastal and ocean resources, bolster coastal resilience and enhance economic opportunities for the people of Florida. Our approach to achieving our vision and implementing our mission is contained in our Strategic Plan for FY 2018-23.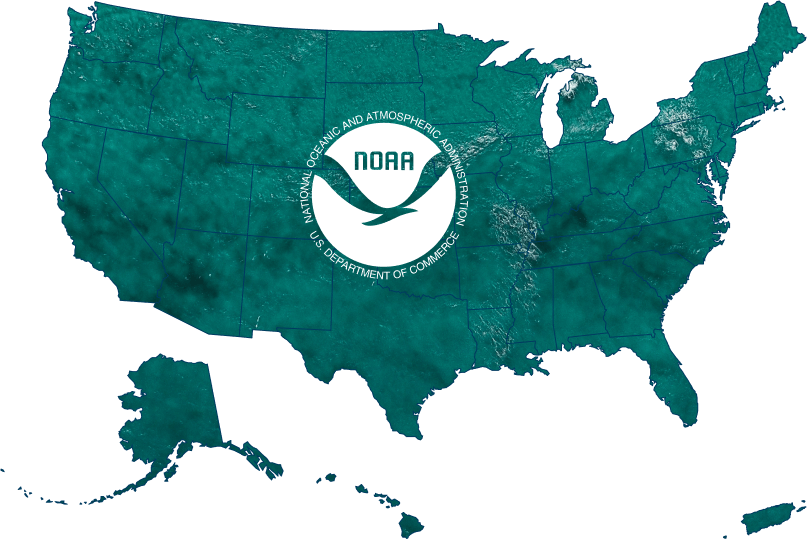 Florida Sea Grant is part of the National Sea Grant College Program.
The national program was established by the U.S. Congress in 1966 and works to create and maintain a healthy coastal environment and economy. The Sea Grant network consists of a federal/university partnership between the National Oceanic and Atmospheric Administration (NOAA) and 34 university-based programs in every coastal and Great Lakes state, Puerto Rico, and Guam.
Overall, the Florida Sea Grant (FSG) program is unique in both the diversity of its coastal zone and, thus, programs offered and the scope of the population it affects. Florida has the second longest coastline in the United States with more than 8,000 miles (behind Alaska) and is home to nearly 16 million people who live in coastal counties (just behind California and New York). Florida also hosts seasonal residents and visitors from other U.S. states and abroad, with unique knowledge and educational needs.
As part of a network, the FSG program often works closely with several other programs, including the new National Sea Grant Law Center given that one area of emphasis concerns law and policy. The majority of collaborations are regional in nature as projects focus on an issue rooted in shared resources or risks.
Within the Southeastern U.S., the FSG program engages with two distinct Sea Grant groups.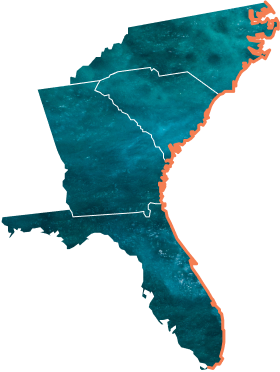 In the South Atlantic, FSG works with Georgia and North and South Carolina most closely on projects related to coastal resilience and with fisheries. For example, a joint project funded in part through NOAA's Office of Coastal Management is helping a community in each state adopt a nature-based solution to address flooding that affects transportation corridors. Results from each state are helping generate processes and solutions that can be used throughout the region. Other projects are developing improved estimates of stock size for Greater Amberjack and Red Snapper with stakeholder engagement facilitated thorough the Sea Grant programs.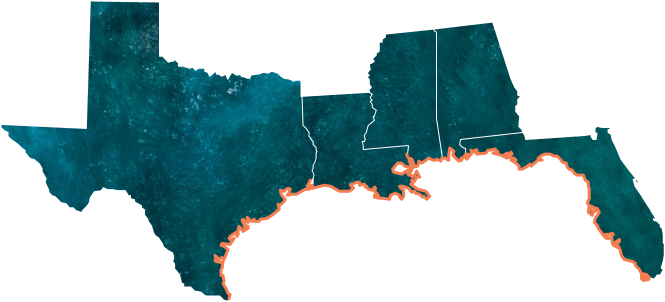 Within the Gulf of Mexico, FSG has also worked cooperatively with the Texas, Louisiana, and Mississippi-Alabama programs on coastal resilience and fisheries, but also has a long-standing program on communicating oil spill science. The coastal resilience program is focused on the northeastern Gulf (placeslr.org) and the fisheries efforts are more heavily focused on engagement with recreational anglers, especially those targeting reef fish (returnemright.org).
Finally, the FSG also works closely with the "islands" programs – Guam, Hawaii, and Puerto Rico – as we share an economic dependence on tourism and steward to the nation's only coral reef systems.
Florida Sea Grant

Serves the State
FSG is a statewide Center of the State University System (SUS) of Florida with links to 19 Campus Coordinators—faculty or administrators at research and academic institutions around the state with expertise in the marine and coastal sciences— that serve as liaisons between the FSG program and their affiliated researchers. This map identifies institutions with active Campus Coordinators.   
FSG's administrative offices are located at the University of Florida (UF) – Florida's flagship university and Land Grant institution. As Florida's Land Grant university, UF also houses the USDA's Cooperative Extension System (CES). While both NOAA and USDA bring science to stakeholders and the public through programs at academic institutions, Sea Grant focuses on coastal and marine issues while the CES addresses uplands, terrestrial and freshwater issues. As a result, combining Sea Grant with Cooperative Extension integrates programs for improved outcomes and impacts at the watershed level. Our 21 extension agents and three tenure-track state specialists are all faculty within UF/IFAS Extension. The organizational chart highlights FSG's role within UF and shared positions that support the program.
FSG uses Work Action Groups (WAGs) to develop and guide regional and/or statewide integrated efforts that prioritize applied science and associated extension, outreach and education needs. WAGs are ephemeral committees; they are established by need and dissolved when demand wanes. There are currently five WAGs: Fisheries, Aquaculture, SEAS (Shoreline, Estuarine and Aquatic Systems), Climate Change, and Harmful Algal Blooms (HABs). Members of the WAGs include FSG extension personnel, as well as other county and state faculty (e.g., non-FSG Extension agents, FSG Affiliate Faculty with subject matter expertise, and project coordinators supported with leveraged funds).