Become A Florida Friendly Angler!
Florida Friendly Angler (FFA) is a free, online, do-at-your-own pace educational program designed for any angler who wants to learn more about sustainable fishing and boating practices while interacting with Florida's aquatic environments.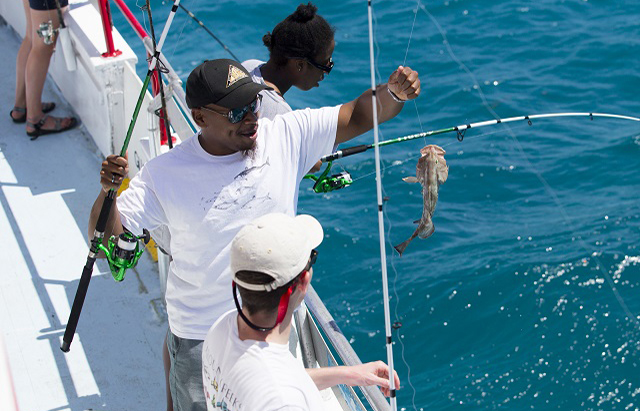 Florida is the fishing capital of the world with over 4 million unique fishing license holders! Annually, recreational, and commercial fisheries provide our state with a combined $17 billion of economic impact and support tens-of-thousands of jobs. With all this pressure, and significance fishing has on this state's economy, environment, and culture, it's up to all of us to educate both Floridians and visitors to make sure we're able to enjoy our natural resources and environment for years to come!
Florida Friendly Angler (FFA) is a free, narrated, online, short, do-at your-own-pace educational program that informs users about our state's aquatic environments, best practices when fishing and the inner workings of fisheries management. By teaching the how and why behind topics that anglers encounter while fishing in Florida, the program reinforces practices that can reduce our impact while fishing, ensuring the creation of great future fishing stories!
What Anglers Who Have Completed FFA Are saying
"I want to improve my level of skill at bagging fish and have a concern for both the ecological and legal ramifications of my chosen sport. Finding out things I was unaware of is a kick for this almost 82 year old fisher who's fished for as long as he can remember!"
"I'm always interested in finding out more about how I can help improve my favorite hobby. This course provided a ton of useful information that I will apply while spending time on the water."
"Thought I would compare what my current knowledge is/was [to] possibly increase that knowledge. I was not disappointed!"
"Fishing is not a tradition in my family, so there was no one to teach me the ways of fishing or fish handling. I believed this course would give me a better and unbiased insight into being an angler, without causing any harm to fish populations or the environment."
"Being from Indiana, I wanted to make sure that I am educated on different species of fish that I might catch, both for their safety and mine. I really found the course helpful."
"I already consider myself an ethical and responsible angler. However, I was hoping it might teach me something I didn't already know. I did learn a bit more about fisheries management and am happy I took the course."
"Already confident in my knowledge of these topics but was looking to pick up a nugget or two of new information, which I did! Thank you and excellent job with the course."
"As a neophyte angler, I need all the education I can get. This happened to be a very good course."
"I moved here from Wisconsin a couple of years ago and I wanted to better understand salt water fisheries. Thank you for your time and effort in the educational aspect of this course."
Participation in the FFA course is completely voluntary. Enroll for free to help ensure quality fishing experiences in Florida are here to stay.
Environmental Ethics
Learn about fishing pressure, how to reduce strain on fish populations and best boating practices when fishing seagrass flats and reefs.
Catch & Release
Learn what factors can contribute to release mortality and how practices such as improper handling can impact our favorite fish populations.
Intro to Fisheries Management
Learn who manages Florida's fisheries, the science behind management decisions, and how anglers can contribute to fisheries research.
Frequently Asked Questions
Visit
FLFriendlyAngler.com
to enroll for free! The curriculum takes approximately 1.5 – 2 hours to complete. Each of the three educational modules contain about ~30 minutes of narrated content and can be accessed via desktop or mobile device at any time after registration.
This online program can be accessed at any time via desktop or mobile device. Course information is shared through narrated interactive presentations, videos, animations and more! Each module also has supplemental content if users would like to dive further into a particular topic. Upon completion of the program, students receive a certificate and a free Florida Friendly Angler weatherproof decal.
In all, the course covers 64 science-based best management practices (BMPs) that help reduce the environmental footprint of fishing.
Module 1:
The first portion of the program covers environmental ethics for anglers. In this section, anglers learn the growing need for best practices and ethical behavior while interacting with fisheries and the environment. Anglers will learn about fishing pressure, how popular species like Gag Grouper have been previously affected by pressure/management and what WE can do to help reduce the strain on heavily targeted species. There is also information on how various environments like natural reefs and seagrass flats can be impacted from careless behaviors such as anchoring on coral heads or creating seagrass propeller scars. The course addresses both those issues and more; providing best practice suggestions to boaters and anglers.
Module 2:
The second section of the course covers best practices when fishing. Anglers learn about conditions that can contribute release mortality and how factors such as improper handling can impact our favorite fish populations. The program provides information on how to reduce release mortality with suggestions on proper gear types, choosing the most appropriate gear and best landing/handling procedures. The module is filled with information like baitfish identification, how gills work, how to hold fish properly when snapping a photo and more!
Module 3:
The third lesson is an introduction to fisheries management. In this portion, viewers learn why we have fisheries management, understand who manages our state's fisheries and what management decisions are based on. Many anglers are aware of fishing regulations but may not know why they are put into place. The module also offers information on management agencies, fisheries science tools, what is a stock assessment, population models, fisheries data and how anglers can contribute to science.
If you have any questions or technical difficulties accessing the FFA course, contact one of our course administrators below. We have support resources at UF to assist with any difficulties.
More Resources for Anglers