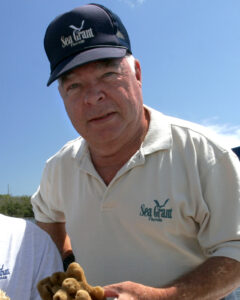 Florida Sea Grant has lost one of its most cherished friends as well as one of its true pioneers, Don Sweat. He passed away peacefully earlier this month.
Known for his engaging personality and vast knowledge of fisheries science and aquaculture, Don Sweat was a true pioneer in the development of the Florida Sea Grant Marine Extension Program. He was among the first Marine Extension agents hired back in 1977 and served a wide swath of Florida's coastline in what is now called Florida's "Nature Coast".  Equally at home presenting his research at scientific conferences or walking the docks to discuss issues with fishermen, Don embodied the Sea Grant concept of using science to address the real-world problems confronting the sustainable use of marine resources.
Don was a native Floridian, born in Jacksonville in 1939 and spending his formative years growing up in Deland, Florida. After obtaining a degree from the University of Florida, he became an officer in the United States Navy, serving 5 years. During this time, he also received a master's degree from Stetson University.
Don brought a wealth of experience to his 33-year career with Florida Sea Grant. He started his professional career as a biologist with the Florida Department of Natural Resources (now the Florida Fish and Wildlife Commission).  During his tenure, he developed a method for tagging spiny lobster. This was a groundbreaking accomplishment. Since lobster periodically shed their entire exoskeleton in the process of growing, it had proven to be extremely difficult to permanently tag them to determine their movements.
His next professional step was a position as vice president of Sea Farms of Key West. During his tenure, he worked throughout Central and South America with the newly developing shrimp farming industry. The 2500-acre shrimp farm he built for that company in Honduras still operates today.
His accomplishments during his tenure with Florida Sea Grant were legendary. In 1988, he became a founding board member of the nonprofit Pier Aquarium to help provide educational experiences from the local marine environment to the community. Don was also instrumental in establishing the aquarium's annual Kids' Fishing Tournament, teaching responsible fishing practices to hundreds of youngsters each year.
Don provided a key link between University of South Florida and University of Florida researchers in the scallop seed production and spawning process, which became an integral part of ongoing work to provide the juvenile scallops needed for restoration efforts along the Florida coast. His efforts have contributed to the re-opening of areas once closed to recreational scalloping along Florida's West Coast.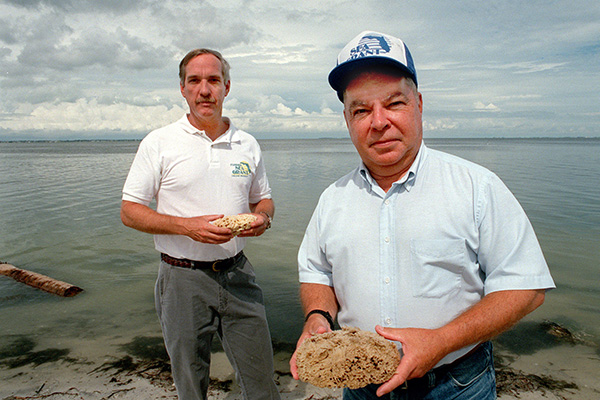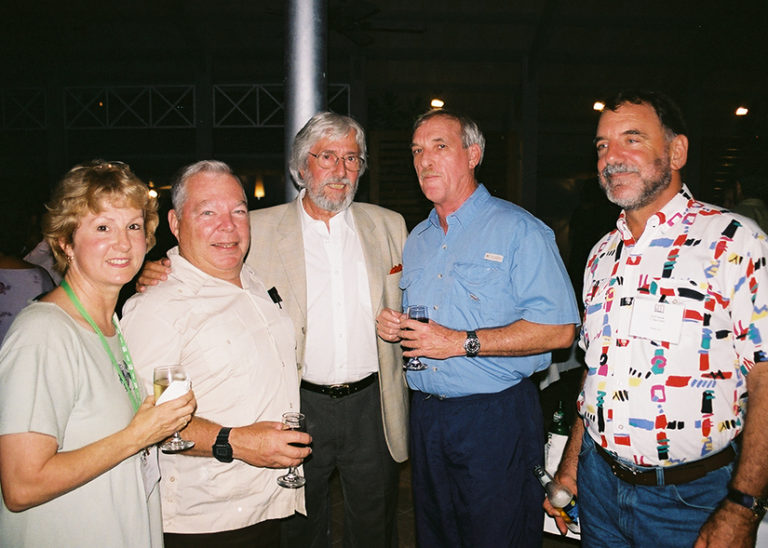 He spent more than 20 years as part of the UF team that documented the sustainability of the state's commercial sponge fishery, with far-reaching implications for the industry. Among the outcomes, the research showed that if spongers changed from tearing to cutting sponges loose from the sea floor, the remaining sponge tissue could nearly double its ability to regenerate to a harvestable size. The change was endorsed by both the sponge industry and state regulators, and is now law. The team's research on long-term recovery of marine sponge populations in the Florida Keys is routinely presented at national and international conferences.
Don served as a board member of the World Aquaculture Society, and was a fellow of the American Institute of Fishery Research Biologists. He was also a member of the International Pectinid Society, and helped host the organization's 2003 Biennial Meeting in St. Petersburg that attracted more than 125 participants from 25 countries. In 2010, Don was awarded the national William Q. Wick Visionary Career Leadership Award in recognition of his career achievements in Sea Grant Extension. Upon his retirement, the Florida Sea Grant Program created the Don Sweat Sea Grant Extension Award, which is awarded annually to a Florida Sea Grant Marine Extension Agent that has conducted extension program that truly exemplifies the "Science Serving Florida's Coast" motto. Don Sweat was a valued colleague and mentor to many who were both fortunate to have served with Florida Sea Grant and lucky enough to have crossed paths with a true marine extension pioneer.