With red tide in southwest Florida giving us a reprieve, it's a good time to think about the future. Red tides have occurred in Florida 57 of the last 66 years, so we should expect future events. But a red tide shouldn't mean we have to avoid all of the things we enjoy doing on the Florida coast.
A new tool has been developed to forecast red tide related respiratory conditions, and is being expanded to every beach every day. This decision tool will allow beach goers to determine where and when conditions are likely to be most favorable for visiting beaches during a red tide event.
Why is this needed?
Karenia brevis, the organism that causes red tides, produces a toxin called brevetoxin. Brevetoxins may be released into the air when wind and wave actions cause the algal cells to break open. Healthy individuals may experience some irritation on exposure, but these symptoms typically subside once they leave the impacted area. Aerosolized brevetoxins can however result in more severe and prolonged breathing problems for individuals with respiratory conditions, such as asthma.
Aerosol impacts can vary widely from one beach to another and over the course of a day. This is due to the interaction of prevailing winds with tides and currents, that tends to bring blooms onshore in localized patches. Consequently, beaches a mile or two apart may experience very different toxic aerosol levels. The best protection from K. brevis toxic aerosol exposure is improved information in the form of easily accessible daily, beach-specific respiratory forecasts. This is why, HABscope was developed.
What is HABscope?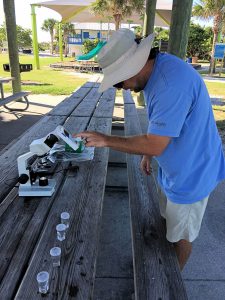 HABscope uses trained citizen scientists to collect a water sample, and using an iPOD adapted microscope, take a short video of the sample. The video is then uploaded to a central data site where it is analyzed using a program trained to recognize K. brevis cells and calculate cell concentrations. NOAA scientists then combine the cell concentrations with wind speed and direction data in order to provide respiratory irritation forecasts for the day. These forecasts are communicated to the public via the HABscope website in near real-time, projected over 24 hours and updated with the latest wind models every 3 hours.
Planning your day at the beach.
Now when you're planning a trip to the beach, not only can you check the weather forecast to see if it's going to rain, but you can also check the HABscope forecast to see if your favorite beach is experiencing favorable respiratory conditions. Just click on the pin for your beach and you'll receive a 24-hour forecast of respiratory risk, along with wind speed and wind direction. If conditions are good, you're good to go. If not, you can look for a nearby beach with better respiratory conditions. After all, a day at the beach should be an enjoyable one.
How do I get HABscope at my beach?
HABscope relies on citizen scientist who commit to sampling their assigned beach at least 3-4 days a week, and preferably 5-6 days a week, during a red tide bloom. Volunteer are encouraged to work in teams, as this reduces the burden on any one volunteer. Right now, citizen scientists are needed from Manatee County south to Collier County.
Who do I contact if I want more information about becoming a HABscope citizen scientist?
Grant Craig from GCOOS is the HABscope volunteer coordinator. He may be reached by phone at 727-798-1232 or email grant.craig@gcoos.org
HABscope – Every Beach Every Day! https://habscope.gcoos.org/