PI: Dr. Sherry Larkin, Florida Sea Grant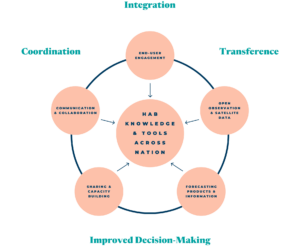 Recap: A NOAA Harmful Algal Bloom (HAB) liaison is working to improve end-user decision making through coordination, integration, and transference of HAB forecasting knowledge and tools generated by NOAA.
Relevance: Harmful algal blooms (HABs) have been reported to occur in the surface waters of all 50 U.S. states and are increasing globally. HABs occur when photosynthetic algae that live in fresh, brackish or marine waters grow out of control (i.e., "bloom") and have adverse effects on people or ecosystems. These HABs can result in significant socioeconomic impacts due to shellfish closures, wild or farmed fish mortalities, human health impacts, lost coastal recreation and tourism, reduced waterfront property values, and consumers who avoid consuming seafood. Early detection can mitigate some of the harmful effects of HABs, thus reducing associated socioeconomic impacts.
Response:  The nationally-funded NOAA HAB Liaison project created a partnership position between Sea Grant and the federal agency NOAA. The NOAA HAB Liaison is developing collaborations with partners and stakeholders across the national Sea Grant network to support planning, research and technological solutions to address HAB issues, ensure coastal communities have access to and use sound science, data, tools, and the training to be effective in planning and decision-making relative to HABs.
The overall project is being managed through both an advisory committee and points of contact that together will help develop a new HAB Community of Practice (CoP). Ultimately, CoP members will learn about and be trained on tools and products of the federal partners and they will subsequently share these tools with their community partners.
Supplemental Information: Project Implementation Plan
Sea Grant Week Presentation: NOAA HAB Update
34
Creative Works
(Publications, presenations, etc.)
3
Reviews
(Publications, grants)
1
Workshop
FL-HABON Steering
Committee
904
Engagements
(201 individial contacts + 703 presentation attendees)
Network:
Partners:
Dr. Rick Stumpf, NCCOS
Dr. Veronica Lance, NOAA CoastWatch
Elizabeth Rohring, Sea Grant
Participating Program Directors (AC):
Dr. Sherry Larkin, Florida Sea Grant
Dr. Fredrika Moser, Maryland Sea Grant
Dr. LaDon Swan, Mississippi-Alabama Sea Grant
Dr. Rebecca Shuford, New York Sea Grant
Dr. Chris Winslow, Ohio Sea Grant
Dr. Pamela Plotkin, Texas Sea Grant
Dr. Russell Callender, Washington Sea Grant
Dr. Julie Lively, Louisiana Sea Grant
Dr. Tom Johengen, Michigan Sea Grant
Participating Programs (AC):
Dr. Ana Sirviente, Great Lakes Observing System (GLOS)
Dr. Barb Kirkpatrick, Gulf of Mexico Coastal Ocean Observing System (GCOOS)
Dr. Gerhard Kuska, Mid-Atlantic Regional Association Coastal Ocean Observing System (MARACOOS)
Dr. Jan Newton, Northwest Association of Networked Ocean Observing Systems (NANOOS)
Dr. Clarissa Anderson, Southern California Coastal Ocean Observing System (SCCOOS)
Laura Korman, Southeast Coastal Ocean Observing Regional Association (SECOORA)
PROJECT LEAD: Florida Sea Grant
PROJECT PARTNERS: National Centers for Coastal Ocean Science (NCCOS), NOAA CoastWatch, Integrated Ocean Observing Systems (IOOS)