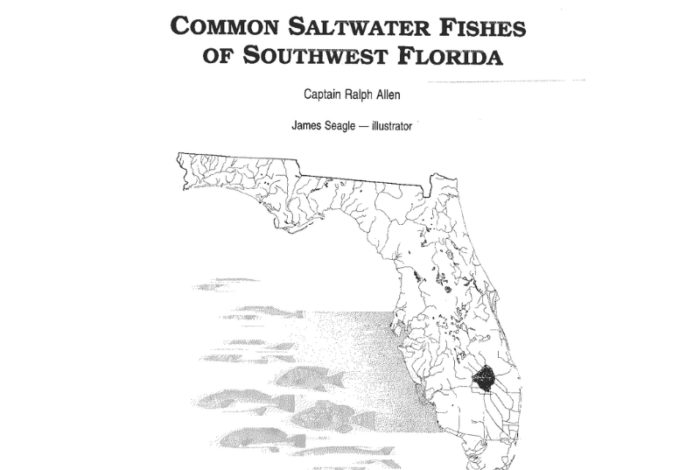 Florida is an angler's paradise. Our wide variety of fish makes fishing a popular activity. More than 5
million Florida residents and tourists spend in excess of $2 billion each year on the sport (Florida Sea
Grant College Program, 1993). The number of recreational fishermen has grown tremendously, and
a continuing increase in the number of anglers over the next 20 years is expected-particularly along
Florida's southwest coast. This growing pressure on fisheries resources within the West Coast Inland
Navigation District and beyond makes information that can aid conservation of our fisheries timely as
well as useful.
The rich diversity of Florida's marine fish species presents a challenge to the angler wishing to identify
his catch. Obviously, identification is a must if one is to participate in proper conservation practices.
In many instances the first question asked by an angler upon catchmg a saltwater fish is: "What the
heck is it?" A stream of other questions onen follows: "Can I keep it? Can I eat it? Can it hurt me?"
This book is designed to answer these questions and others at the time the fish is caught. Learning
more about the lish you catch should improve your chance of properly applying the regulations and
conserving our fishery resources. Because fishing regulations change frequently, they are not covered
in this book, but should be obtained from state and federal agencies referenced on page v.
There are well over 150 species of fish caught by hook and line in local waters. The 86 species
included in this book were selected by the author and editors because they are the most frequently
encountered. For eachspecies, important informationabout distinguishingfeatures, biologylhabitat, and
fishing methods is provided. The often confusing common nicknames applied to each fish are noted,
as well as the fish's preferred common name.
We hope that the information included in this book will not only add to the angler's enjoyment of fishing,
but that it will also motivate anglers to take a more active role in conserving Florida's outstanding fishing
resources.