As a Florida Sea Grant HARVEST intern (2021-2022), I worked with Dr. Laura Tiu (Florida Sea Grant) and Dennis Peters (Ocean Era). My internship focused on offshore aquaculture, and was primarily centered around Ocean Era's Velella Epsilon demonstration project in the Gulf of Mexico.
The Velella Epsilon demonstration project proposes placing a single, temporary, small-scale net pen in federal waters approximately 45 miles southwest of Sarasota, Florida in waters approximately 40 meters deep. It is meant to serve as an educational platform that will provide valuable information about offshore aquaculture in the United States to policymakers, scientists, and the public.
The demonstration project has three specific priorities:
To serve as a platform for the promotion of rational aquaculture policies and demystification of the industry by pioneering the federal permitting process and validating the feasibility of a temporary, demonstration net pen in the Gulf of Mexico
 Fill a scientific data gap on the effects of offshore aquaculture in the Gulf of Mexico through the continuous monitoring of environmental data on water quality, benthic impacts, and species interactions, and 
Address public concerns regarding offshore aquaculture by providing transparency throughout this project, and, once deployed, encourage the public to visit the net pen and demonstrate fish aggregation effects, which could benefit fishing communities.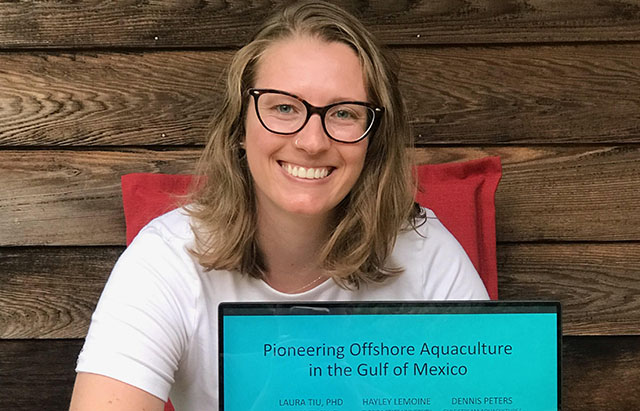 For my internship, I was tasked with drafting a Manual for Aquaculture Permitting Pathway (MAPP), which provides a detailed timeline of Ocean Era's experience pursuing federal permits for Velella Epsilon. The Velella Epsilon project is groundbreaking in that it will be the first net pen in federal waters. As a result, the permitting process was untested, and as it turns out, extremely convoluted. Furthermore, the topic of offshore aquaculture in the United States is controversial, and there are non-governmental organizations and special interest groups that have sought to terminate the Velella Epsilon project before it can be fully realized. My internship was thus spent primarily in meetings where government agents discussed the latest progress or hurdles in the permitting process, pouring through legal documents and policy papers about permitting activities in the open ocean, and combing through media coverage of offshore aquaculture in Florida.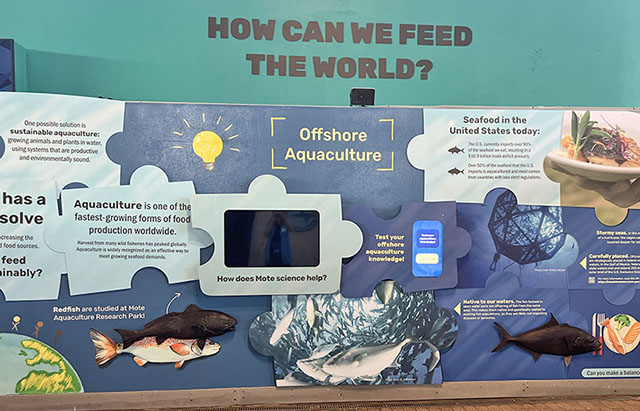 I also had the opportunity to help on other aspects of Florida Sea Grant's work on offshore aquaculture. I provided assistance in the successful application for an EEBlue Grant and the design of Mote Marine Lab's Offshore Aquaculture Exhibit. I curated science-based resources for Florida Sea Grant's offshore aquaculture webpage. I had the opportunity to contribute to presentations at national conferences, including a presentation I gave on the HARVEST internship program at the National Aquaculture Extension Conference.
I learned more than I possibly could have imagined at the start of the internship, from what is required for different permits to how permitting decisions are made by various government agencies. My legal jargon understanding has grown and I've become familiar with the Environmental Appeals Board, even sitting through oral arguments for an appeal of the Velella Epsilon National Pollutant Discharge Elimination System permit. As a member of a cross-sectoral team, I learned a lot about communication and best practices when coordinating a large project across many people from different organizations, companies and agencies. I also had the opportunity to meet aquaculture professionals across sectors, agencies, and states. Thanks to this internship, my professional network and my knowledge of offshore aquaculture have grown immensely.
While my internship is wrapping up, my work on offshore aquaculture will likely continue, thanks in large part to the wonderful experience I had during this internship learning about and contributing to our understanding of offshore aquaculture in the United States.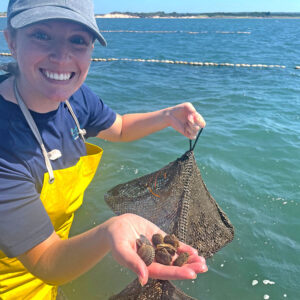 Hayley Lemoine is a PhD candidate in the Geography Department at Florida State University. She is interested in the social and ecological dynamics of seafood systems, and her dissertation focuses on interactions between marine aquaculture and wild-capture fisheries. Prior to pursuing her PhD, Hayley earned a Master of Environmental Management degree from Yale University and a Bachelor of Arts degree in biology from Vassar College. In 2021, Hayley served as a Florida Sea Grant HARVEST intern where she worked on Ocean Era's Velella Epsilon project.