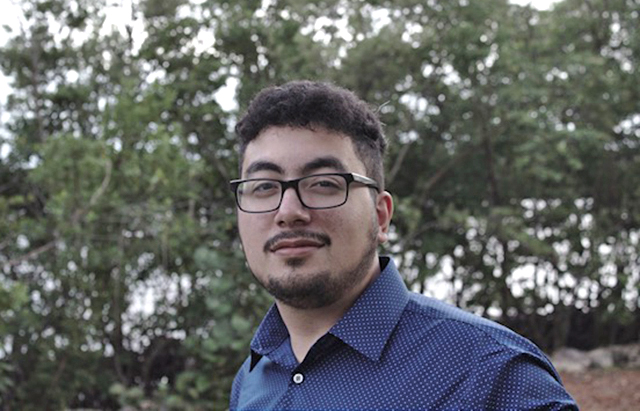 Matthew Marrero, a doctoral student of marine science at Florida International University, has received the National Marine Fisheries Service (NMFS)-Sea Grant Fellowship in Population and Ecosystem Dynamics. 
The fellowship provides up to three years of funding to outstanding Ph.D. candidates who study ways to improve the sustainability of fish stocks that are commercially or recreationally valuable. 
Marrero's research interests are focused on the coupled human-environmental interactions in coastal and marine ecosystems. Specifically, Marrero's project explores the behavior and impact of recreational fishers in the Upper Florida Keys. 
"The interactions between humans and fisheries are complex and produce feedbacks that influence coastal communities," says Marrero, who works within the Tropical Fish Ecology Lab within FIU's Department of Biological Sciences. 
Marrero's funded project is modeling ecosystem-scale coral reef fisheries in South Florida using novel recreational fisher behavior data collected with help from the Southeast Fisheries Science Center. Using survey techniques to collect data, Marrero will create simulation models of the Upper Florida Keys fishery that will include both fisher behavior and ecosystem level dynamics. 
"I am personally excited to bring the simulation models to life," says Marrero. "Simulation modeling allows me to combine my love for marine science and coding to create helpful research tools!" 
Marrero hopes that the simulation models will be used by fishery managers to test how management policies may influence fisher behavior and ecosystem dynamics. 
As part of the joint fellowship program, Marrero's research will be guided by two mentors: Alastair Harborne, Marrero's faculty advisor at FIU, and Matthew McPherson, Branch Chief of the Southeast Fisheries Science Center within NOAA Fisheries. 
Marrero is among a class of eight finalists selected by NOAA for 2022 fellowships from geographically diverse universities (Alaska, California, Florida, Michigan, Massachusetts, New York, North Carolina and Washington). Fellows were chosen through a competitive process that involves national review by an expert panel. 
Since 1999, the NMFS-Sea Grant Joint Fellowship program has trained the next generation of specialized experts in fisheries management. The program addresses the critical need for future fisheries scientists with expertise in stock assessment by supporting students pursuing doctoral degrees in related fields. 
Read the full announcement in a press release from the National Sea Grant College Program. 
Applications for the 2023 NMFS-Sea Grant Joint Fellowship Program are open until Jan. 25, 2023. Prospective fellows from Florida must submit their applications through Florida Sea Grant. Learn more about how to apply.