This blog is part of a series called AquaCurious, which discusses important and popular topics related to finfish aquaculture in the U.S.
As the population grows, more people consume seafood every day. While seafood consumption trends are likely to continue, America currently imports most of its seafood even though there are potential benefits to increasing the domestic supply to support the demand for seafood. One solution available for strengthening our domestic seafood supply is aquatic farming in deep waters far from the coast, a practice known as offshore aquaculture.
There is no scientific consensus regarding the definition of offshore aquaculture. Whether an operation is offshore refers to if it exists in the open ocean, which typically means deep waters far from the coast. This is why offshore aquaculture can also be referred to as open ocean aquaculture. Offshore aquaculture can be used to grow bivalves, like mussels; algae, like kelp; and finfish, like salmon.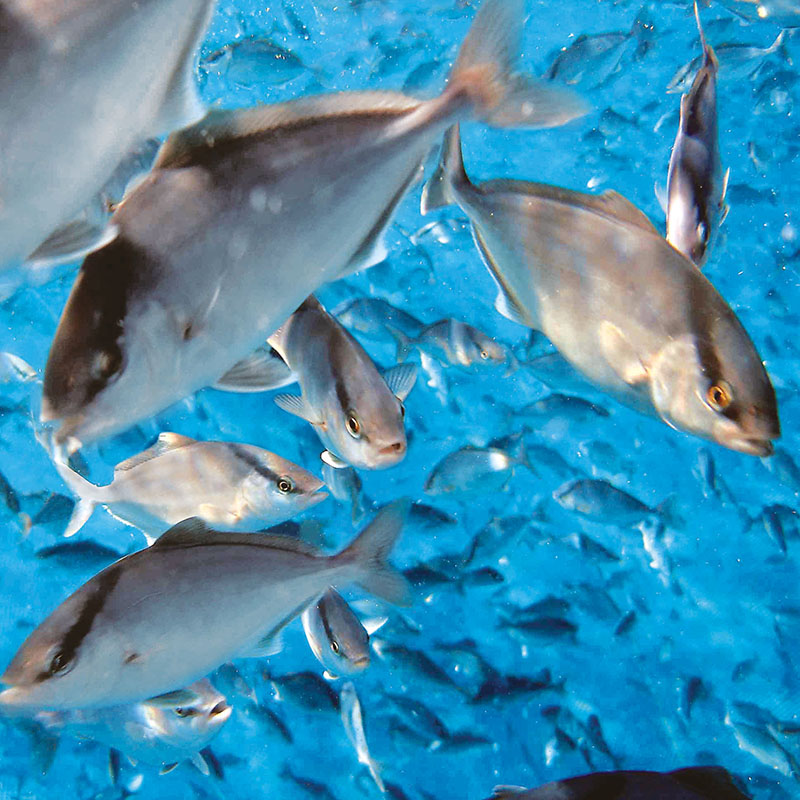 While bivalves and kelp have the lowest environmental impacts, the reality is that Americans consume a substantial amount of finfish, with the most popular species being salmon, tuna, pollock, and cod. Much of this finfish is grown on offshore farms in other countries and imported to the U.S. Offshore finfish aquaculture in domestic waters could therefore make an important contribution to the American seafood supply.
Potential Benefits
Healthy and nutritious fish can be cultivated in deep waters with strong currents, limiting the negative environmental impacts and influencing water quality conditions. Deepwater environments have high flushing rates, which is the time it takes for an influx of water to replace existing water mass in a marine environment. As a result of this exchange, offshore aquaculture farms need fewer inputs, such as antibiotics, to reduce the risk of disease, parasite outbreaks, and the effects of metabolic waste like fecal matter.
Domestic seafood availability is impacted less by geopolitical instability than imported seafood. There can be potential to generate jobs in rural and coastal economies, allowing us to carefully monitor and regulate the environmental impacts while decreasing the distance seafood must travel to reach the consumer can lower carbon emissions. Furthermore, based on examples from other countries such as Norway and China, offshore farms are often not visible from shore, so they don't disrupt coastal views.
Foreseeable Challenges
Despite its potential, the benefits of offshore aquaculture are not always guaranteed. Farm impacts are site-specific, so where offshore farms are located is critical. The U.S. currently lacks robust data on the impacts and benefits of offshore aquaculture farms in U.S. waters, causing regulators, managers, and farmers to rely on information collected from farms located in other countries. This is not ideal for understanding how offshore farms will affect U.S. waters and coastal communities.
An excellent option for better understanding the impacts and benefits of offshore aquaculture in the U.S. is to conduct pilot projects, or small-scale, temporary versions of commercial farms, where relevant data can be collected.
Testing the Waters
Ocean Era, a marine aquaculture company focused on developing innovative and sustainable ways to grow seafood, has proposed the Gulf of Mexico's first offshore aquaculture pilot project, called the Velella Epsilon demonstration project. There are no offshore finfish farms in the Gulf of Mexico, so Ocean Era has proposed placing a single, submersible net pen about 45 miles off the coast of Sarasota, Florida. The mission of the project is to raise and harvest Almaco jack (Seriola rivoliana) over the course of a year, after which the net pen will be permanently removed.
Ocean Era has been working closely with academic and government scientists to ensure that the final placement of the demonstration pen will not disrupt other ocean user-groups, avoid sensitive marine resources, and minimize environmental impacts. Once Ocean Era receives all the required permits, it can deploy the net pen and conduct its monitoring program, which involves continuously tracking data such as feed inputs and water quality.
As the first of its kind, the Velella Epsilon demonstration project will provide decision-makers, scientists, and Florida residents with critical science about the effects of developing an offshore aquaculture industry – helping stakeholders to decide, as we look to the future, if we want more of our seafood to be farmed offshore.
References
H. E. Froehlich, A. Smith, R. R. Gentry, and B. S. Halpern, "Offshore Aquaculture: I Know It When I See It," Front. Mar. Sci., vol. 4, p. 154, May 2017, doi: 10.3389/fmars.2017.00154.
R. R. Gentry et al., "Mapping the global potential for marine aquaculture," Nat Ecol Evol, vol. 1, no. 9, pp. 1317–1324, 2017, doi: 10.1038/s41559-017-0257-9.
D. Blacklock, J. Pennock, and M. Schulze-Haugen, "NOAA Aquaculture Strategic Plan (2023-2028)," National Oceanic and Atmospheric Administration (NOAA), Oct. 2022. [Online]. Available: https://media.fisheries.noaa.gov/2022-10/Strategic-Plan-102422-web.pdf
R. Fujita, P. Brittingham, L. Cao, H. Froehlich, M. Thompson, and T. Voorhees, "Toward an environmentally responsible offshore aquaculture industry in the United States: Ecological risks, remedies, and knowledge gaps," Marine Policy, vol. 147, p. 105351, Jan. 2023, doi: 10.1016/j.marpol.2022.105351.
S. E. Lester, R. R. Gentry, C. V. Kappel, C. White, and S. D. Gaines, "Opinion: Offshore aquaculture in the United States: Untapped potential in need of smart policy," Proc Natl Acad Sci USA, vol. 115, no. 28, pp. 7162–7165, Jul. 2018, doi: 10.1073/pnas.1808737115.
C. Costello et al., "Global fishery prospects under contrasting management regimes," Proc Natl Acad Sci USA, vol. 113, no. 18, pp. 5125–5129, May 2016, doi: 10.1073/pnas.1520420113.
NOAA Fisheries, "Fisheries of the United States report," 2020. https://www.fisheries.noaa.gov/foss (accessed Mar. 16, 2023).
R. R. Gentry et al., "Offshore aquaculture: Spatial planning principles for sustainable development," Ecol Evol, vol. 7, no. 2, pp. 733–743, 2017, doi: 10.1002/ece3.2637.
A. M. Ruth, L. N. Sturmer, and C. M. Adams, "Organizational Structures and Strategies of FL Hard Clam Industry," p. 60, 2005. https://repository.library.noaa.gov/view/noaa/35327
R. Hilborn, J. Banobi, S. J. Hall, T. Pucylowski, and T. E. Walsworth, "The environmental cost of animal source foods," Front Ecol Environ, vol. 16, no. 6, pp. 329–335, Aug. 2018, doi: 10.1002/fee.1822.
About The Blogger
As Florida Sea Grant's Offshore Aquaculture Communications Fellow, Hayley Lemoine produces communications and outreach materials that promote aquaculture literacy. Lemoine is a Ph.D. candidate within the Geography Department at Florida State University, with research interests in the social and ecological dynamics of seafood systems. Her dissertation focuses on the interactions between marine aquaculture and wild-capture fisheries. In 2021, Lemoine served as a Florida Sea Grant HARVEST intern where she supported Ocean Era's Velella Epsilon demonstration project.