Two University of Florida students have been selected for newly-piloted Florida Sea Grant Tallahassee internships as part of the Spring 2022 class of the Bob Graham Center's Tallahassee Internship Program. 
The specialized placements of the Florida Sea Grant Tallahassee Internship are designed for University of Florida students with interest and experience in relevant coastal topics, such as water quality and quantity protection, climate change impacts, seafood quality and safety, hazard resiliency, fisheries conservation, or access to Florida's coast. Florida Sea Grant interns are placed in a legislative or executive branch office with an ocean or coastal focus to work on issues that promote the sustainability and resilience of Florida's coastal communities and ocean resources. 
This year's finalists are Derrick Evans, a third-year economics and political science dual major transfer from Santa Fe College and Pennsylvania State University, and Roberto Ferrer, a senior criminology major pursuing minors in Latin American studies and Portuguese. Evans will intern in the Florida Fish and Wildlife Conservation Commission, while Ferrer will intern in the Office of Representative Ben Diamond.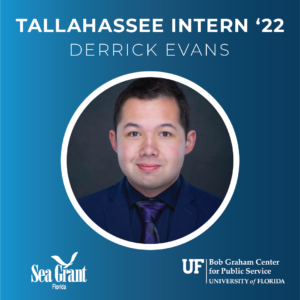 Through his placement at the Florida Fish and Wildlife Conservation Commission, Evans hopes to gain a deeper understanding of the political issues Florida faces and plans to use his experience in government and knowledge of marine life to protect the state's marine ecosystems. In 2019, 2020, Evans was honored with the Florida College System all-academic distinction. He has also received the Diamond Scholars award and earned his international studies certification.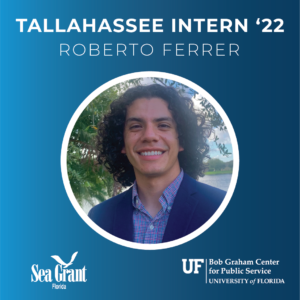 During his internship at the Office of Representative Ben Diamond, Ferrer hopes to improve his organization, leadership, and writing abilities and learn how conservation networks operate within the state. Ferrer's fluency in three languages has been instrumental to his research in wildlife trafficking, fisheries management, and sea turtle conservation. Roberto has maintained a near-perfect GPA throughout his academic career at UF. 
Throughout their efforts in Tallahassee, Evans and Ferrer will work closely with Florida Sea Grant staff at UF to design an outreach project that amplifies the visibility and value of Florida Sea Grant's mission, applying the knowledge and networking gained during their term. 
Students selected for these internships will develop industry knowledge and professional networks that better position them for future fellowships and career opportunities oriented toward Florida's environmental policy and beyond. 
"We are excited to support undergraduate students through this opportunity of career-connected learning that directly addresses the state's pressing marine and coastal issues, and also brings value to our political leadership and stakeholders," said Sherry Larkin, director of Florida Sea Grant. 
Students can explore more career and funding opportunities offered by Florida Sea Grant at flseagrant.org/students. Additional internship opportunities offered by the Bob Graham Center can be found at bobgrahamcenter.ufl.edu/internships.