Every summer, Florida Sea Grant grants nine students awards funding to work under a University of Florida adviser. These students work on projects that contribute to the future of coastal science and conservation efforts. From living shorelines to harmful algal blooms, here are the 2023 Florida Sea Grant Summer Research Interns!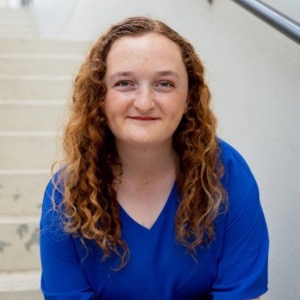 Julia Moncrieff
UF junior, Julia Moncrieff, was one of the students selected to work under Dr. Julie Meyer in the Meyers Microbes lab. Currently, her project is focusing on isolating bacteria culture from corals, freezing them and reviving the bacteria to develop a probiotic for long-term coral health.
"I'm hoping we can develop some sort of probiotic treatment that can be used for corals to help ensure their health," says Moncrieff. "In the future, no matter what disease may come along — whether it is the rise in ocean temperature, salinity changes, or maybe even another oil spill — they can have those probiotics already in their system and it can ensure their health despite those things."
Moncrieff is currently working on securing her scientific diving certification so she can do field work under Dr. Meyers. She hopes that once she obtains the certification she can help the Meyers lab get new bacterial samples.
"The older samples are from many years ago, and may have changed with the ever changing environment," says Moncrieff.
Moncrieff has found that research on marine organisms has been the most exciting part of her internship. She applied because she wanted to see marine organisms in a different light, and because she wants to ensure future generations can enjoy the same marine life she gets to see every day.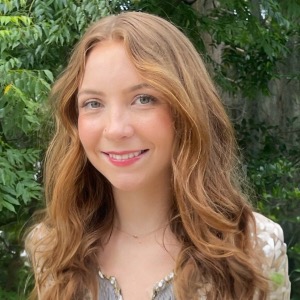 Grace Johansson
Grace Johansson, a rising University of Florida junior, grew up in Jupiter, Florida with two scuba diving parents near the coast. Her upbringing fostered her love for the ocean and marine life. 
She is working under Dr. Ed Phlips, who's research focuses on algae. Specifically, her project focuses on looking at algae in the Caloosahatchee estuary, and blooms that result from Lake Okeechobee discharge pollutants.
The area is home to many sugarcane farms, and phosphates can trigger algal blooms. Johansson is still learning the ropes of the lab because this is first time in a lab, she said, but is hoping the lab's research of fertilizers will push farmers to move away from disruptive pesticides and pollutants.
"Generally just bringing awareness to the fact that everything has a cause. People see red tide all the time," says Johannsson. "But I don't know if everyone really knows where red tide is coming from."
Since this is Johansson's first time working in a lab, she's excited to see the way a lab operates. The lab is teaching her a whole new skill set. 
"I do a lot of field work, but this is a different side of things, with all the microscopes and chemistry," she says. 
Johansson believes this is making her a more well-rounded scientist. With a resume filled to the brim with fieldwork, she chose this internship because it was an amazing opportunity, and the study of algae blooms stuck out to her as an interesting topic.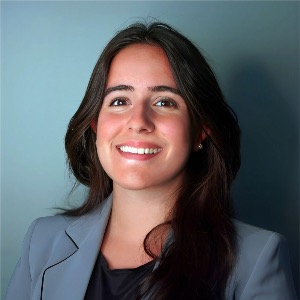 Bianca Ruiz
Bianca Ruiz, Miami native and UF Animal Science junior, is working in the Reynolds Coastal and Marine Ecology Lab under Laura Reynolds.
Ruiz is working on a collaborative project with Florida International University and labs across the caribbean.
"We are focusing on blue carbon levels all across Florida and the Caribbean," says Ruiz. "They're pretty much focusing on how some coastal ecosystems sequester carbon dioxide and store a large carbon stock."
The project is drawing out potential needs for conservation-based climate change mitigation. The project is hoping to give the Reynolds lab and other Caribbean labs a better understanding of how blue carbon will affect global warming.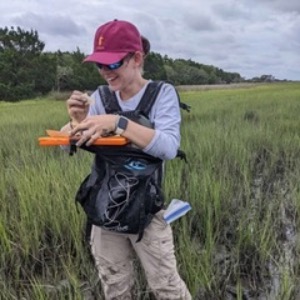 Kylie Hollis
Kylie Hollis, a first generation college student from Lakeland, Florida, is working in the Coastal Ecosystems and Watersheds Lab with Anna Braswell. Hollis is working primarily under Emory Wellman, a PhD student in Braswell's lab.
Hollis is assisting Wellman in her research surrounding bivalves and how they impact marsh ecosystem functioning. 
"My work, specifically, is about the shell quality instability and how it impacts oyster recruitment, especially in the context of restoration projects and oyster reefs," says Hollis.
Through her research, she's looking to provide better information for oyster restoration projects and the materials that should be used on those projects. Hollis finds this research exciting because ecology is a constantly evolving field. 
"This is stuff that's being applied on the ground immediately after we finish this research. That's super exciting."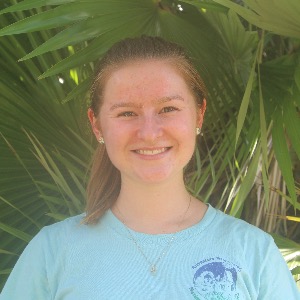 Amber Lopez
Amber Lopez, UF junior, is working in the Soil, Water, and Ecosystem Sciences under Ashley Smyth. Lopez is working on sponge nursery research.She is studying the possibility of establishing a sponge nursery in Biscayne Bay.
"With native sponge populations decimated by harvesting and harsh conditions, we are looking to create a successful protocol that other conservationists and individuals can follow to establish a thriving sponge nursery," says Lopez.
"Sponge populations will help increase overall ocean health through improving water quality, creating organism shelter and providing a food source for certain marine animals."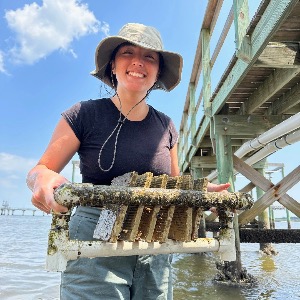 Molly Allen
Molly Allen, UF sustainability studies and economics senior, is working under Mark Clark in the Department of Soil, Water, and Ecosystem Sciences. Allen wants to understand the connection between scientific approaches and socioeconomic factors when developing effective strategies for addressing climate change impacts on coastal and marine environments. 
"One specific area of interest for me is the implementation of living shorelines as a comprehensive approach to coastal protection, habitat restoration, and climate adaptation. I am also interested in oyster reef restoration and eager to learn more about how best to support the biodiversity and ecosystem services they provide," says Allen.
Allen is working on multiple projects under Clark, but the focus on her interests — living shorelines and oyster restoration. While Clark and his team have created a novel oyster reef substrate and deployed it at Cedar Key, they do not have comprehensive data on the best timing to implement these structures for optimal oyster recruitment. 
"This is where I hope to contribute by designing and implementing an oyster spat monitoring program in Cedar Key. This program will follow a two-week cycle where panels will be deployed, retrieved, analyzed, and replaced. I hope to eventually expand this into a volunteer-based initiative in order to foster a sense of ownership and community support among citizens in Cedar Key," says Allen.
She believes this project will encourage other similar projects from stakeholders in the community.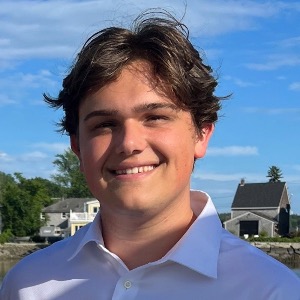 Stowe Dinenberg
Stowe Dinenberg, a UF economics and mathematics senior, is working in the Food and Resource Economics Department and is interested in the economic side of coastal conservation.
"The economic influence of coastal regions is indisputable. This includes understanding how certain marine/coastal markets behave — specifically the aquaculture market in my research project; how coastal communities respond to disturbance, such as hurricanes, and how to better prepare coastal economies for a changing climate," says Dinenberg.
Determining the economic feasibility of growing new species in Florida waters helps both growers and coastal economies. 
"I am actively working on an economic feasibility analysis to determine whether certain species of tropical fish could be grown in Florida, and what impact the introduction of those new species will have on the ornamental fish market. I am hoping to produce a publishable document detailing the results and methods of the analysis. "