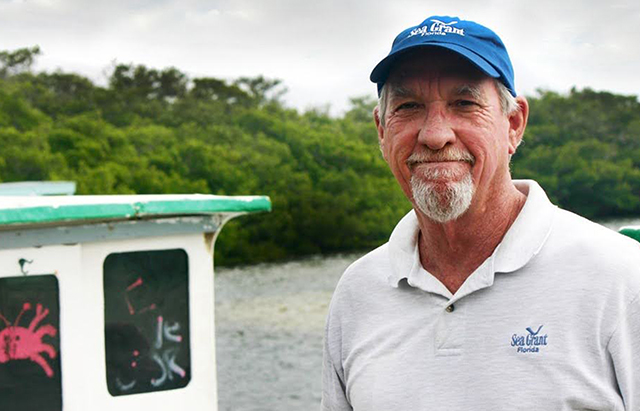 The historic fishing village of Cortez celebrated its 41st annual Cortez Commercial Fishing Festival last month, filled with live music, nautical arts, environmental exhibits, and tons of seafood.
Involved since the Festival's inception in 1982, Florida Sea Grant Extension Agent emeritus John Stevely has played a critical role in celebrating the history and heritage of this commercial fishing village.
"John was one of the biggest supporters of Cortez, and he worked tirelessly to assist the village throughout his career and retirement," says Dr. Angela Collins, a fisheries specialist with Florida Sea Grant.
John was a founding member of the Florida Institute of Saltwater Heritage (FISH), an organization dedicated to sharing the importance of Florida's traditional maritime communities and domestic commercial fisheries. FISH created and sponsored the Annual Cortez Commercial Fishing Festival, which established the FISH Preserve, an extensive habitat preservation program near Cortez.
John's involvement with FISH also helped local commercial fishermen find their way into new jobs and careers when their jobs were voted away by the constitutional amendment banning gill nets in Florida in 1995-96.
"John was able to integrate himself with the citizens of Manatee and Sarasota Counties and develop programs that addressed the needs of communities," says former Florida Sea Grant Director Dr. James Cato.
This year marked the first Cortez Commercial Fishing Festival without John Stevely. After a courageous battle with cancer, he passed away on May 27, 2022 , at the age of 72, during a walk at Robinson Preserve in Bradenton, Florida.
"His absence is always felt but is truly noticeable right now," says Dr. Collins. "He's always been a driving force behind the scenes at the Festival. He was an amazing mentor, excellent teacher, friend, and communicator. He shared his knowledge so gracefully and he was so humble. Everyone loved him, everyone respected him, and everyone misses him."
John had an impressive background in fisheries sciences and coastal ecosystems. He earned a bachelor of science in biology at Gettysburg College in Pennsylvania, and a master's degree in marine science from the University of South Florida. John was selected as a Smithsonian Research Fellow and a member of USF's Outstanding Alumni.
John Stevely and his wife Theresa Bert, a research scientist for the Florida Fish & Wildlife Conservation Commission (FWC), dedicated their careers protecting coastal and marine resources. Along with his contributions to Cortez and the Cortez Commercial Fishing Festival, John Stevely began his early careers with Florida Sea Grant in the late '70s, and was instrumental in the development of Florida's artificial reef program, barotrauma mitigation research, and commercial harvesting of Florida's marine sponges.
John's knowledge, coupled with his kind and patient demeanor, fostered valuable partnerships that still serve Florida Sea Grant.
Pioneering Florida's Artificial Reefs
For over three decades, Florida Sea Grant has played a leadership role in the evolution of the state's artificial reef program. In the 1980s, John laid the foundation for the first regional artificial reef workshop in southwest Florida that fostered collaborations between stakeholders, county managers, and the Florida Fish and Wildlife Conservation Commission's (FWC) Artificial Reef Program.
"John Stevely pushed the envelope in artificial reef development," says Dr. Chuck Adams, former Florida Sea Grant Marine Extension Specialist. "For the first time, various stakeholders congregated in the same room, learned and discussed the developments in artificial reef technology, science, and policy."
The annual regional artificial reef workshops are a forum for artificial reef coordinators, managers, researchers, industry experts, and other interested stakeholders to discuss new research, provide regional updates, and inform statewide initiatives. The success of John's artificial reef workshops eventually culminated in the creation of similar workshops in other parts of the state as well as a statewide Artificial Reef Summit that is held every five years.
John worked alongside Dr. Adams to evaluate the economic benefits of artificial reef programs in a six-county region of Southwest Florida. The results of the study served as a helpful reference for resource managers, coastal community and state government agencies, reef user groups including fishers and divers, and Extension agents.
"Putting those numbers into the hands of people investing in reefs was important, and helped further the development and research related to artificial reefs," says Dr. Collins. "Even though the data were published 12 years ago, people continue to cite it regularly."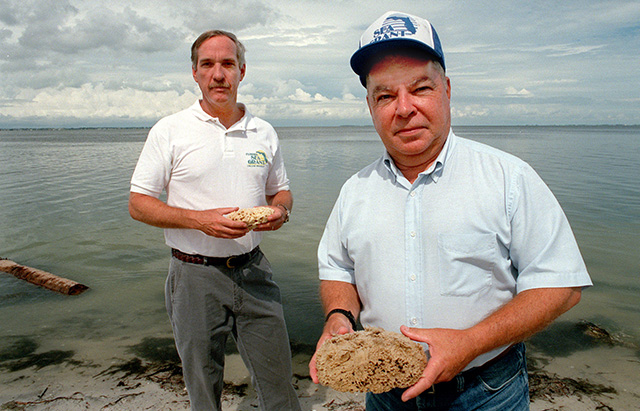 Science Serving Sponges and Reef Fish
John's devotion to restoring marine ecosystems and fisheries continued with his work surrounding the introduction of fish venting tools and descending gear on Florida's coast to mitigate barotrauma in reef fish. An early inspiration to angler-driven programs like "Return Em' Right", John became involved in training and collecting data on various devices on the water and communicating best practices for weighted descent to anglers.
"John helped increase the education and extension of venting tools that inflicted smaller puncture wounds," said Dr. Adams.
The venting tool was made of a sharp, hollow steel cylinder that could be inserted under a scale and barely into the swim bladder of the fish, inflicting a small puncture that would still allow gas to escape but had a better chance of healing since the wound was small.
John's research with former Florida Sea Grant agent Donald Sweat also saved a small industry crucial to the state's cultural and economic legacy.
Based on their research, John and Don showed state regulators that sponges in the Florida Keys, Tarpon Springs, and the Florida West Coast could be sustainably harvested. Commercial sponge divers around the globe embraced their recommendation to cut rather than tear sponges during harvest to promote regeneration.
The recommendation of the applied research became state law 68B-28 and piqued the international interest in the market value of cultured sponges in countries such as Mexico, Belize, and even in the Micronesian island of Pohnpei.
"Without John's research, there would be no sponge industry," says Jim Cantonis, former president of Acme Sponge and Chamois Company. "His team supported the sponge industry by communicating the facts and science of harvesting sponge to different stakeholders and government agencies."
Accolades and Accomplishments
John retired in 2014, earning nearly 20 awards and commendations throughout his career, including:
Outstanding Service Award, Cortez Chapter, Organized Fishermen of Florida, 1983
Agent/Specialist of the Year, Southeast Fisheries Association and Gulf & South Atlantic Fisheries Development Foundation, 1987
Outstanding Extension Agent, Manatee County Extension Service, 1985 – 1989
Community Service Award, Florida Institute for Saltwater Heritage (F.I.S.H.), 2005
Elected Member, Agriculture Hall of Fame, Agriculture's Distinguished Service Award, 2015
Award of Appreciation, Gulf Coast Heritage Trail Association, 1999
Beyond his esteemed accomplishments, John was admired by many for his personable qualities that fostered a close-knit community amongst his family, friends, and colleagues.
"John was one of about a dozen Sea Grant-related faculty from around the state that formed a federation of individuals that created lasting friendships," says Dr. Cato.
"The federation met annually on a weekend in the fall for fun and fellowship, including fishing trips and fine dining (always with stone crab claws). This past November 2022, the remaining members of the federation met in Cortez, and it was the first meeting without John. He was sorely missed."
John's proudest accomplishment was his wife, Dr. Theresa (Terrie) Bert, and their son John Bert Stevely. He was a hands-on father that relished taking his family to acclaimed dive spots all over the world. A few days before his passing, John,Theresa and their son shared their final moments together, witnessing a rocket launch and landing in Cape Canaveral.
John's ability to interpersonally connect with people and share research with scientific integrity advanced many breakthroughs in marine industries and communities. Florida Sea Grant will continue to embrace John Stevely's legacy through the programs he established, the knowledge he infinitely shared, and the friendships he cherished.