The Guy Harvey Ocean Foundation, a non-profit organization that conducts scientific research and hosts educational programs aimed at conserving the marine environment, is awarding eight graduate students at Florida colleges and universities with the $5,000 Guy Harvey Scholarship Award.
The recipients of the 2021 Guy Harvey scholarships are:
In addition to the $5,000 award in support of their academic pursuits, each student receives a certificate designed and signed by world-renowned marine wildlife artist and conservationist Dr. Guy Harvey.
"This next generation of bright minds is bringing us one step closer to understanding what it will take to protect Florida's fragile marine environment and ensure its sustainability," said Dr. Harvey. "Through our ongoing support of marine research and by drawing attention to the important work of these students, the GHOF is helping to safeguard a healthy ocean ecosystem for generations to come."
Established in 2010 through a partnership between Florida Sea Grant and the Guy Harvey Ocean Foundation, the Guy Harvey Scholarship Award recognizes students at Florida colleges and universities whose research focuses on the biology, ecology, habitat or management of fish in Florida's marine environment. Since its founding, 67 students have received over $350,000 in scholarships.
Applications for the 2022 Guy Harvey Scholarship Award will be available April 1 through June 1, 2022. For more information, and to apply, visit www.flseagrant.org/student-opportunities/.
Synopsis of Scholarship Recipients
Florida Atlantic University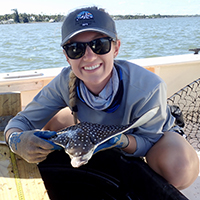 Brianna Cahill
 from Webster, New York, is a graduate student at FAU's Harbor Branch Oceanographic Institute studying marine science and oceanography. Her work focuses on the diet of whitespotted eagle rays using DNA barcoding and stable isotope techniques, as well as ray habitat uses and their ability to inflict damage to common shellfish aquaculture gear.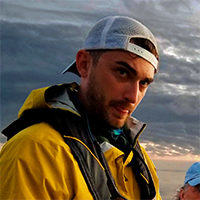 Steven Lombardo of Medina, Ohio, is researching bonefish habitat use to better inform conservation efforts. Bonefish are the backbone of the recreational catch-and-release flats fisheries in Florida, The Bahamas, and across the Caribbean, providing significant economic impact to remote communities.
Florida Institute of Technology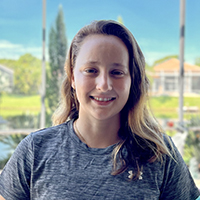 Eloise Cave of Port St. Lucie, Florida, is focusing her research on applying sharks' adaptive immune system genes to discover the potential for local adaptation to environmental conditions.
Florida International University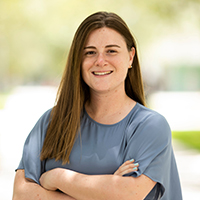 Laura García Barcia, from Castellar del Vallès, near Barcelona, Spain, is researching how mercury accumulates on coastal shark species and its potential toxicity effects on sharks and the people who consume shark-derived products.
Florida State University
Ashley Dawdy, from Atlanta, Georgia, is studying the movement ecology and behavior of elasmobranchs, with a focus on species that are endangered or vulnerable to overexploitation, including the critically endangered smalltooth sawfish with the goal of identifying critical areas used for mating. Her studies also focus on the movement and habitat use of Atlantic cownose rays in Apalachicola Bay, Florida, to define their ecological role within the ecosystem.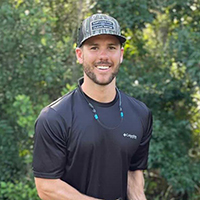 Blake Hamilton, from Sebastopol, California, is researching applied fisheries, leading projects on the community, trophic and movement ecology of coastal elasmobranchs and aiming to describe short and long-term movement patterns of the blacknose shark.
New College of Florida
Cecilia Hampton of Plainfield, New Hampshire, is studying how noise pollution from construction activities affect the habitat usage and behavior of young bull sharks in Manatee River nursery habitats. Hampton uses acoustic telemetry to track the movements of two dozen young bull sharks throughout the river, comparing the data to background noise values gathered from submerged hydrophones near bridges, including one that is undergoing extensive construction.
University of South Florida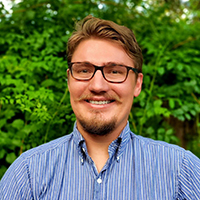 Jonathan Albert Peake of Lutherville, Maryland, is researching fish communities in the Gulf of Mexico and the Caribbean, identifying patterns of metacommunity structure and relating them to the physical, chemical, and environmental conditions within each community to understand the processes that influence fish species composition and abundance in a dynamic marine environment.
---
About Guy Harvey
Guy Harvey is a unique blend of artist, scientist, diver, angler, conservationist and explorer, fiercely devoted to his family and his love of the sea. His childhood passion for the ocean and its living creatures not only inspired him to draw, but fueled a burning interest that prompted a formal education in marine science. Having graduated with honors in Marine Biology from Aberdeen University in Scotland in 1977, Guy returned home to Jamaica to resume his education, earning his Ph.D. from the University of the West Indies in 1984. Though he gave up a budding career as a marine biologist for that of a highly acclaimed artist, Guy has continued his relentless pursuit to unravel the mysteries of the sea, traveling the world to better understand the habits and habitats of the marine wildlife he paints.
For more information, please visit www.guyharvey.com. Follow Guy on Facebook at www.facebook.com/DrGuyHarvey, on Twitter at www.twitter.com/DrGuyHarvey, connect on Instagram at www.instagram.com/drguyharvey, on Pinterest at www.pinterest.com/DrGuyHarvey, Snapchat @RealDrGuyHarvey, and tune in to see Guy's latest expeditions on YouTube at www.youtube.com/user/DrGuyHarvey.
About the Guy Harvey Ocean Foundation
The Guy Harvey Ocean Foundation (GHOF) conducts scientific research and hosts educational programs aimed at conserving the marine environment. The GHOF also funds affiliated researchers working to better understand our ocean ecosystem and educators helping to foster the next era of marine conservationists. The GHOF will help ensure that future generations can enjoy and benefit from a properly balanced ocean ecosystem. For more information, visit www.ghof.org.
Contacts:
Cassandra Sexson, Student Programs Coordinator, 352-294-0754, students@flseagrant.org
Carlos Goycochea, Pierson Grant Public Relations, 954-776-1999, ext. 239, cgoycochea@piersongrant.com