The HARVEST (Helping Aquaculture Reap Value and Enhance Student Training) Program offers Florida Sea Grant agents the opportunity to work with Florida aquaculture industry members to determine a need that can be met by a student intern, providing workforce training for the student and providing benefit to the industry.
As a HARVEST intern, Hayley Lemoine was selected to work with UF/IFAS Florida Sea Grant Extension Agent Dr. Laura Tiu and Dennis Peters, executive director of Gulfstream Aquaculture and manager of the Ocean Era project.
Q: Describe your internship responsibilities that helped bring value to aquaculture.
Lemoine: My focus was increasing awareness of open ocean aquaculture in the Gulf of Mexico. I am working on a couple of projects including a "Manual for Aquaculture Permitting Pathway" detailing Ocean Era's experience obtaining a permit to conduct an open ocean aquaculture pilot project. I am also putting together a series of workshops and focus groups meant to gain a more nuanced understanding of perceptions regarding open ocean aquaculture across different communities in Florida and among different stakeholder groups. I hope to improve public understanding of what open ocean aquaculture is, how concerns are being addressed by this budding industry, and the value this industry provides to working waterfronts, local economies, and the United States as a whole.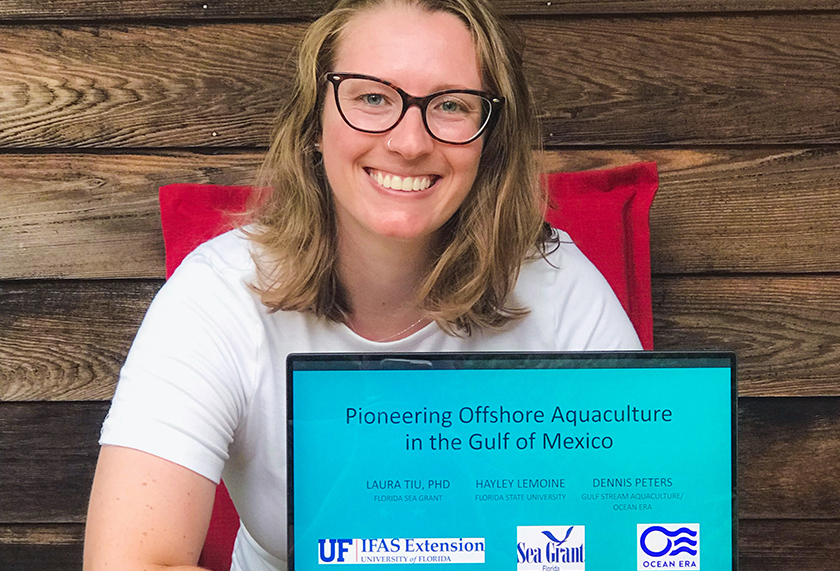 Q: What has been your favorite part of the experience so far?
Lemoine: The best part of this internship so far has been the opportunity to work with this incredible group of people. Laura and Dennis have each taught me so much and provided me with a really engaging and interesting experience.
Q: What have you gained from the HARVEST program?
Lemoine: I've learned a lot about open ocean aquaculture, especially in regard to the current process for obtaining a permit in the Gulf of Mexico. I've also learned about working effectively on a cross-sectoral team, and about stakeholder communication and engagement. Nearly everything I've done for this internship has been new, but it is always fun and wonderfully challenging.