Using Applications for Natural Resource Management
Florida Sea Grant, in partnership with UF/IFAS and Golder Associates, offers a premier 3.5-day intensive training on geographic information systems (GIS) using ArcGIS Pro, a powerful tool for managing natural resources and guiding growth and development processes.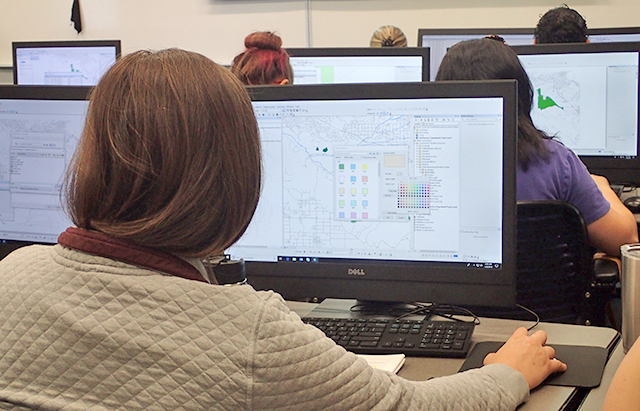 The introductory training introduces participants to ArcGIS Pro, the primary product used by professionals to compile, analyze, and manage geographic information. It covers the most commonly used GIS skills used in the industry today by completing "real-world" exercises that build confidence using GIS, increase awareness about GIS data sources and help users explore GIS tools to enhance their research programs. Instruction also integrates important private-sector perspective providing skills directly relevant to the job market.
Offered twice a year, each in-person training is held at a computer lab located at the University of Florida in Gainesville. Beginning in 2021, an online format of the training became available for those that cannot attend in-person and/or are comfortable with online learning.   
Registration Fees
General: $550
Students: $300
Fee covers training materials, including presentations and workbook, access to software and instructors to solve any issues or questions. Participants that complete the training will receive an electronic certificate of completion for 30 hours of GIS training.
You'll learn from experts from Florida Sea Grant as well as global specialized engineering and consulting organization, Golder Associates.
Environmental Scientist & Consultant
New training module available in collecting and mapping field data
This new module includes how to create a data dictionary, how to collect new spatial data in the field and how to create and share your spatial data using ArcGIS Field Maps App and ArcGIS Online (AGOL).
Taught solely online, the module is available as either a standalone course ($100) or tacked onto the end of the Intro to GIS Training ($50).
It is recommended that those interested in participating in only this module should have prior knowledge of ArcGIS Pro and geographic information systems.
Frequently Asked Questions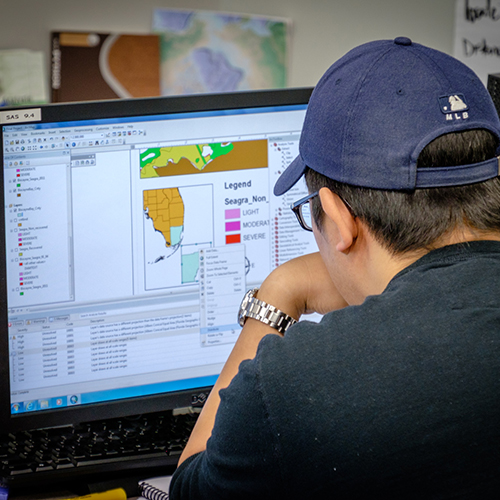 Over the 3.5-day training, participants will learn:
What GIS is and what it can do
Navigating the ArcGIS Pro Desktop
Spatial scale, accuracy, and precision
Problem solving with GIS
Working with spatial coordinate systems
Acquiring GIS spatial layers and creating new features
Editing and attribution of spatial features in vector data sets (points, lines, polygons)
Working with gridded information in raster data sets (imagery)
Making and designing high quality map layouts
Geoprocessing with ArcGIS tools and extensions
How to automate and document spatial analyses in Model Builder
Where to get data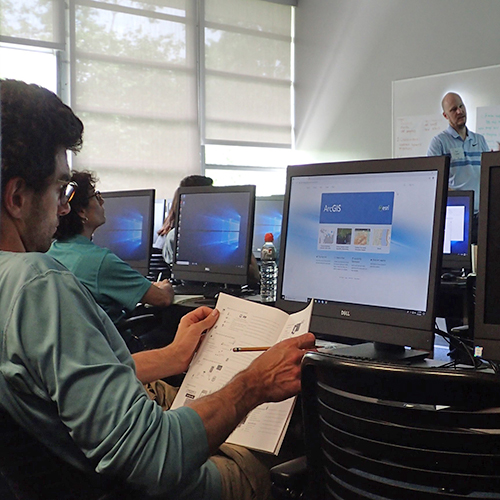 This training workshop is designed for:
Agency professionals
University researchers
Faculty, staff and students
Conservation land managers
Environmental engineers
Biological scientists
Environmental program managers
County extension agents
Private consultants
Anyone who can benefit from using GIS to make decisions in natural resource and coastal management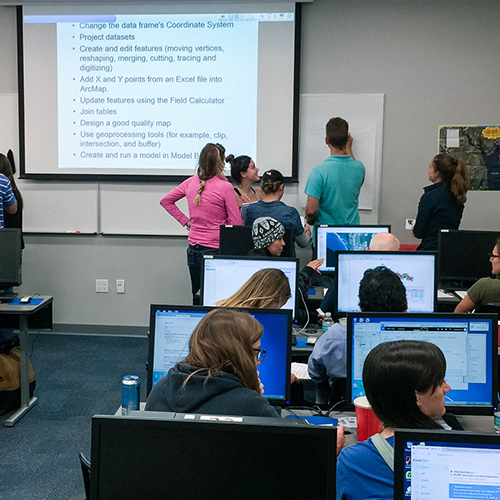 The training consists of a series of short lectures, which will introduce geospatial concepts. Lectures will be followed by exercises that attendees will complete using ArcGIS Pro, applying the concepts learned.
Each participant will have access to a computer workstation with all the needed materials and software, printed workbook documenting the steps required to complete the exercises and the information presented during lectures.
Several trainers will be on hand to provide assistance.
Attendees are expected to adhere to University of Florida guidance on COVID-19 at the time of the in-person training.
In-Person Training Schedule
Monday: 9a.m.-5p.m.
Tuesday: 8:30a.m.-5p.m.
Wednesday: 8:30a.m.-5p.m.
Thursday: 8:30a.m.-12p.m.
*Participants taking the additional ArcGIS Field Maps App and ArcGIS Online (AGOL) training module will do so online.
Once registered, online participants will have an introductory meeting with a training instructor. They will then be granted access to lectures and training materials for 30 days.
For those 30 days, participants can progress through the course at their desired pace and as their schedule permits.
Concepts will be introduced via short video modules explaining fundamental concepts. The modules also contain interactive quizzes so that participants can self-evaluate their progress.
During the 30-day period, instructors will be available via email/Zoom meetings to discuss any questions or issues while taking the online training.
Technical requirements include:
Access to a computer and an excellent internet connection
If needed, online participants can download the trial version of the ArcGIS Pro software (21 day access) just prior to the training.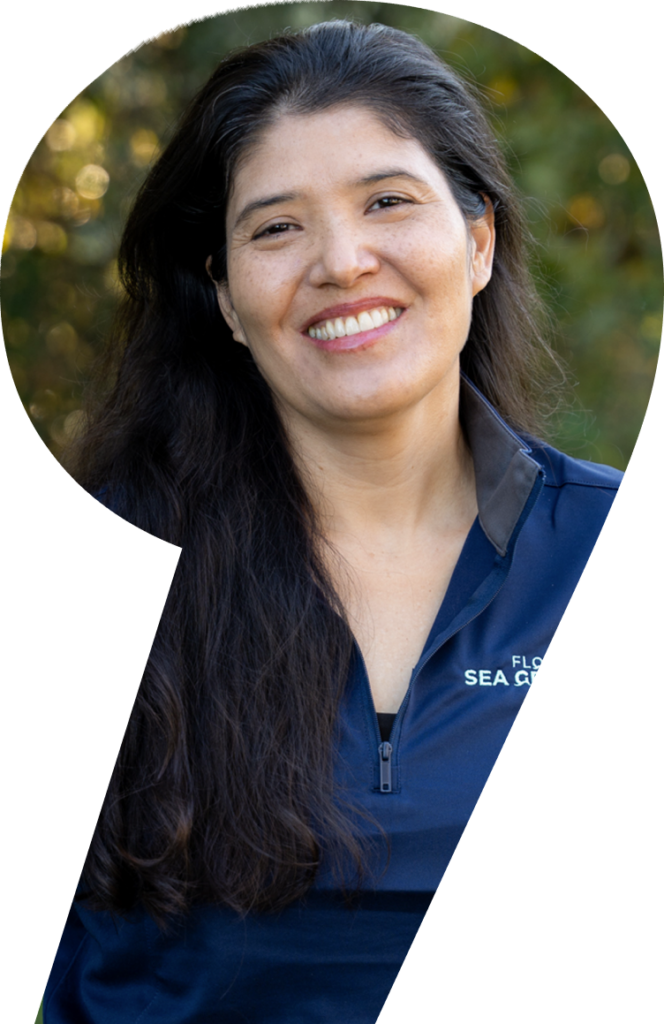 Postdoctoral Associate,
Florida Sea Grant
Postdoctoral Associate,
Florida Sea Grant
>700
GIS-Certified
PARTICIPANTS
63%
of participants
from outside of UF
45
organizations represented,
including government, NGO's, & private sector